Target shooting is becoming more popular in the United States. It's becoming a household hobby that anyone can enjoy doing. About twenty million Americans are part of this sport, and many more are interested in it.
If you're interested in doing some target shooting, there are a couple of things you need to do first. Here are five ways to get started in target shooting:
Buy a Gun
The very first step is to buy a gun. You can purchase a firearm from your local gun store. However, finding a gun in a pawn shop or even online is also common. But, before anything else, you will need to submit some requirements.
The requirements for buying a gun vary from state to state. In most cases, you must be at least 18 years old, have a clean criminal record, and pass a firearms safety test. You will also need to submit your fingerprints and undergo a background check. Once you have all of that, you can then purchase your gun.
Ensure that you have the requirements in your state if you want the buying process to be as smooth as possible.
Get Insurance
Insurance is the next big thing you need to do. Getting insurance for your gun is essential. It will protect you in case anything happens while you're shooting. It's better to be safe than sorry, after all.
You can get two main types of insurance: gun owner's liability insurance and property damage insurance. The former will protect you in case someone gets hurt while you're shooting, while the latter will cover any damage you may cause to property. You can get both forms of insurance from your local gun store or online.
You should also check whether getting an insurance policy in your state is required before you start shooting. Some might even require you to get gun insurance before you can start using it. It might not always be an enforceable law, but if you get caught, you might have to face some penalties.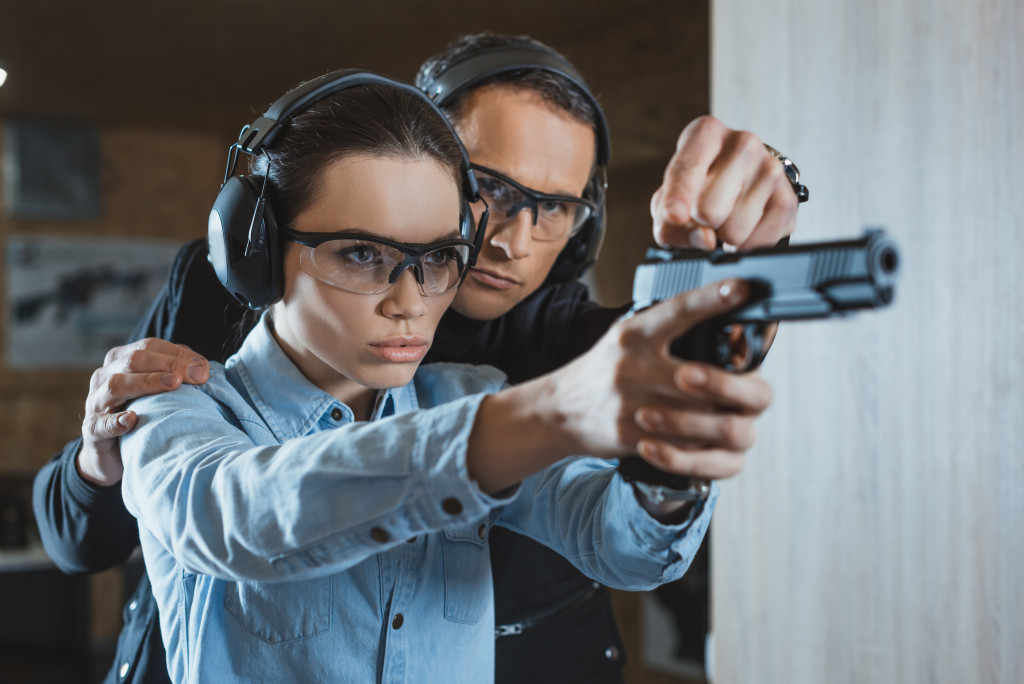 Enroll in a Gun Safety Course
After you get the necessities, you'll need to take a gun safety course. This ensures that you know how to handle your gun properly and safely. Unfortunately, many people make the mistake of thinking they can just read about how to shoot online or in books. However, it's always better to learn from professionals.
Most gun stores offer some gun safety courses. You can also find many courses online. They usually last a few hours and cost you around $50-$100. Some of the best gun safety courses include the National Rifle Association's (NRA) Basic Pistol Shooting Course and the Gun Safety Course by the US Concealed Carry Association. All of which will teach you the essentials of gun safety.
Practice Firearm Safety Always!
Now that you've bought a gun and taken a safety course, it's time to start practicing firearm safety. Remember: safety always comes first. Here are some tips to help you practice safe shooting:
Always keep your gun unloaded until you're ready to use it.
Don't point your gun at anything you don't want to shoot.
Keep your finger away from the trigger unless you're willing to shoot.
Be sure of your target and what's beyond it.
Never shoot at a flat, hard surface or water. The bullet can ricochet and hit someone else.
Wear ear and eye protection when shooting.
Always follow the rules of gun safety, even when you're not shooting.
These are just some of the things you need to keep in mind when shooting. Always remember safety first!
Find The Right Shooting Range
The next step is to find the right shooting range. This is where you can go to practice your shooting. There are many different types of shooting ranges, so you need to find one that meets your needs.
First, decide what type of shooting you want to do. Any local gun range will do if you're going to target shoot. However, if you compete in competitions, you'll need to find a gun range that offers that.
You should also consider the insurance the range has. If you're visiting a gun store with a range, it's essential that it has a gun store commercial liability insurance. It covers any damages that may happen or any accidents that may occur. It's essential for any range, and you should always keep an eye out for that.
You should also consider the location of the gun range. You don't want to drive for hours to get there. Additionally, you'll want to ensure that the gun range is safe and well-maintained.
Finally, consider the cost of the gun range. Some ranges charge by the hour, while others have monthly membership fees. Find one that fits your budget.
Now that you know how to start target shooting, what are you waiting for? Get out there and start practicing! Remember always to follow the rules of gun safety. Happy shooting!